Did you know that if 10 million households across the UK turn down their boiler flow temperature to 60°C or below it could wipe £1billion off UK's energy bills.
Saving 1.7 million tonnes of carbon emissions!
Turning down your boiler by a single degree can save you up to £65 a year for the average household. *Based on September 2023 energy prices.
The average gas boiler in the UK produces the same amount of carbon emissions as taking seven transatlantic flights each year.
Many homes with combi gas boilers are using more energy and costing more money to run than they need to. You could be saving money simply by ensuring your boiler is running as efficiently as possible.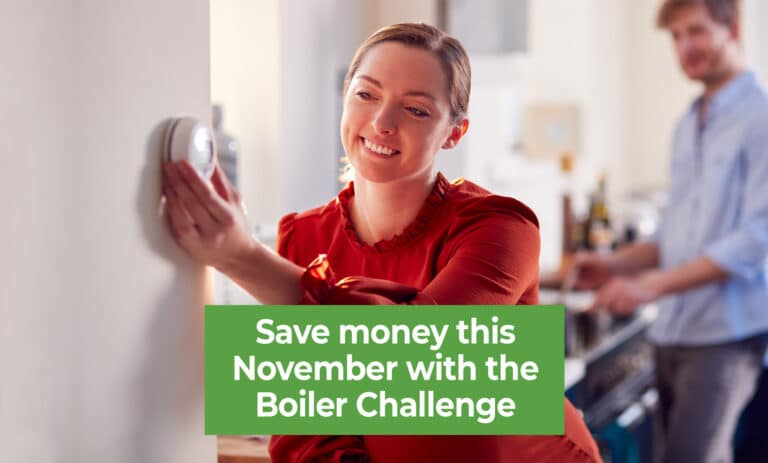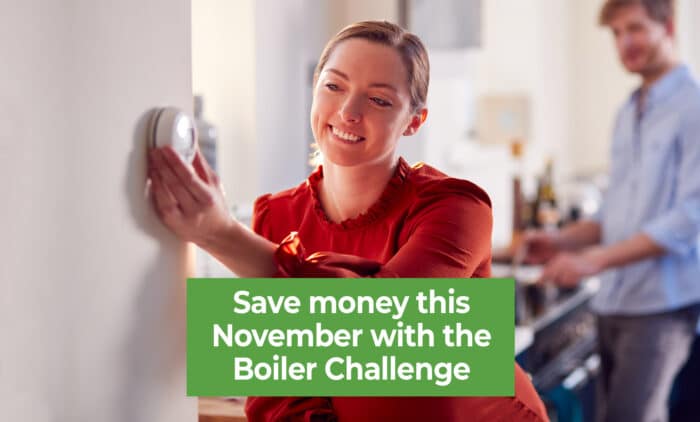 Take the Money Saving Boiler Challenge to save money and reduce your home's carbon emissions.
Combi boilers are at their most efficient when set to work at 60°C or below, whereas most boilers are set above 60°C and often between 70°C and 80°C.
At 60°C your combi boiler will run in condensing mode, which means that it will recover heat that would otherwise be lost when run at higher temperatures. Making it more efficient and saving you money.
>> Join the Money Saving Boiler Challenge today and start saving.
Frequently Asked Questions
What if I have a hot water tank?
We would not recommend reducing your boiler flow temperature if you have a hot water tank. It is best to seek advice from a heating professional on how best to optimise your energy usage when using a hot water tank.
What is boiler flow temperature?
The flow temperature is simply the temperature the boiler will heat water to before it sends the water around your radiators in your home.
On a combi boiler, changes to the flow temperature will not affect the temperature of hot water from your taps or shower.
How do I change my combi boiler flow temperature?
Changing the flow temperature on your boiler is usually quite simple but can vary slightly with each make and model. So looking at your instructions is the easiest way to quickly set your flow temperature.
If you can't find your boiler instructions you may be able to find them online here: www.freeboilermanuals.com. To find your boiler model, the make and model should be displayed on the front of your boiler.
Should I set the temperature at 60°C degrees?
At 60°C flow temperature you know that your boiler is working in condensing mode and therefore is running efficiently. However the lower you go, the more you'll save. So you can try reducing further, as long as your home still feels warm and comfortable. You may also want to lower the flow temperature in the warmer months.
How much could I save?
Depending on what your flow temperature is currently set at and how much energy you use (based on the size of your home) you could be saving £65 per year or even more simply by changing your flow temperature.
Will my rooms be cooler?
No, your rooms should still warm up to the same level as before. However as you will be running at a lower temperature your radiators won't be as warm as they were. So it will likely take longer to warm your rooms than previously.
Why does my home feel cooler than before?
If your home is poorly insulated or particularly draughty. Then you may find that running your boiler at a lower temperature means that your rooms are unable to reach the same temperatures as before and so may need higher the flow temperature.
Poorly insulated homes are very wasteful on energy and so we would highly recommend insulating your home which could be free. Find out more here.
What about users with health conditions or who are vulnerable?
It is important, especially with vulnerable or people with health conditions living in your home to ensure your home stays at a comfortable temperature. So you may need to keep your flow temperature a little higher than 60°C.
What about Legionella?
Stored water must be kept at 60°C or above to reduce the risk of legionella. However, combi boilers do not store tap water in the tanks, instead they provide hot water on demand. Which is why we are specifically talking about combi boilers in this post. Changing the flow temperature on a combi boiler will not affect the risk of legionnaires' disease.
Will turning down the flow temperature affect water pressure?
No, your water pressure will not be affected by turning down your flow temperature.
>> Join the Money Saving Boiler Challenge today and start saving.
More ways to save money on your energy bills
If you enjoyed this article and would be interested in other tips to save on your energy bills, please read one of the articles below:
You can also read lots more energy saving tips on our Energy Savings Tips blog page.